SokilLink Software Suite
Overview
---
SokilLink Software Suite is a complete solution for unmanned vehicle operation. It runs on both ground and on-board PCs and delivers all the required features for modern drones. The software allows users to control their drones in manual mode, observe real time digital video from on-board cameras with telemetry displayed on top, control the cameras using exposed APIs.
The solution is extremely flexible thus it allows to customize each feature and easily add new ones. For example, a vehicle can carry more that one camera, making it more suitable for professional operations, when an operator should be able to see UAV flight direction and observable object at the same time.
It also comes with powerful logging and monitoring features which are very helpful for hardware development, performance monitoring and troubleshooting
Key features
---
One digital data link for all kinds of data (video, telemetry, control)
Digital video streaming
Hardware video coding acceleration for low latency streaming
Bi-directional telemetry streaming
UAV/ UGV manual control using gamepad or other input device
Connecting Ground Control Station software on a separate laptop
Cameras control (start/stop recording, zoom, still shot, settings)
Multiple cameras support
Various camera types are supported: day vision, IR, thermal
Multiple video streams support (limited by radio link throughput)
Mesh networks support
Multiple vehicles operation support (in Mesh and WiFi AP mode)
Commercial goal
---
While big drone market players have developed their own hardware solutions for drones, smaller companies often cannot compete with them because development of such features is usually a expensive task. SokilLink eliminates need of massive R&D efforts, making it much easier to build complex UAV solution.
Typical diagram
---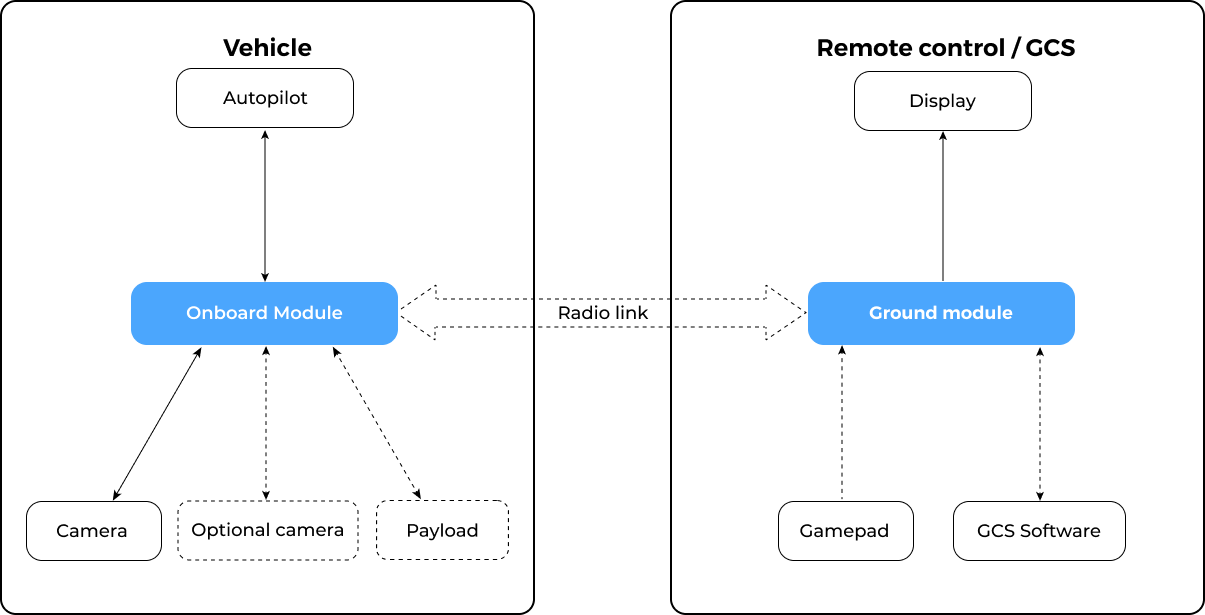 * items in light blue color are supposed to be controlled by SokilLink software
User Interface
---
Video output application
While most of applications are background services, thus have no user interface, this one is responsible for video output and telemetry drawing.
It uses hardware video acceleration so video feed is displayed with minimal latency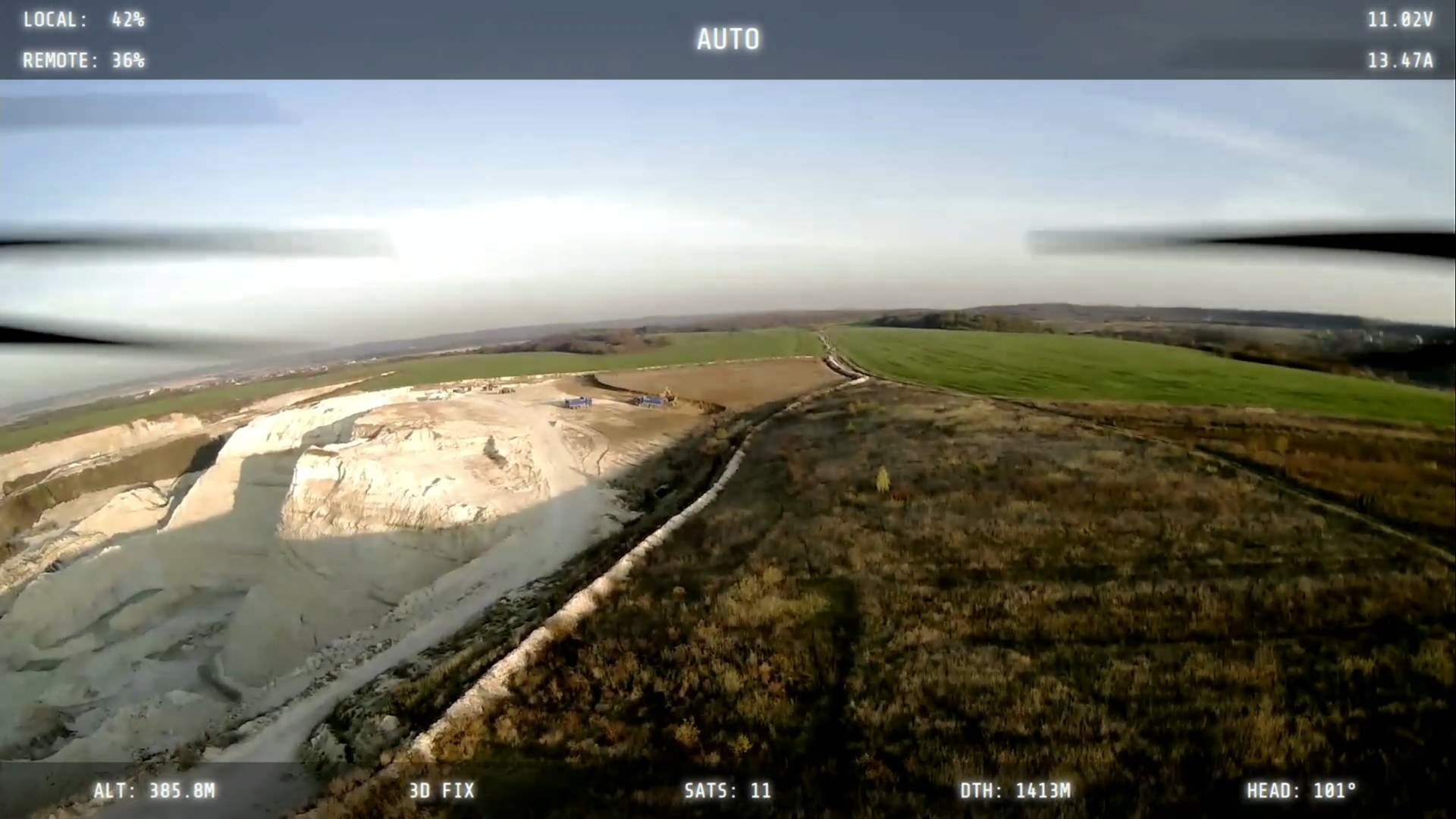 Configurator application
This application is aimed for software configuration and recording/displaying (real-time) system logs, what is very helpful during end product development and integration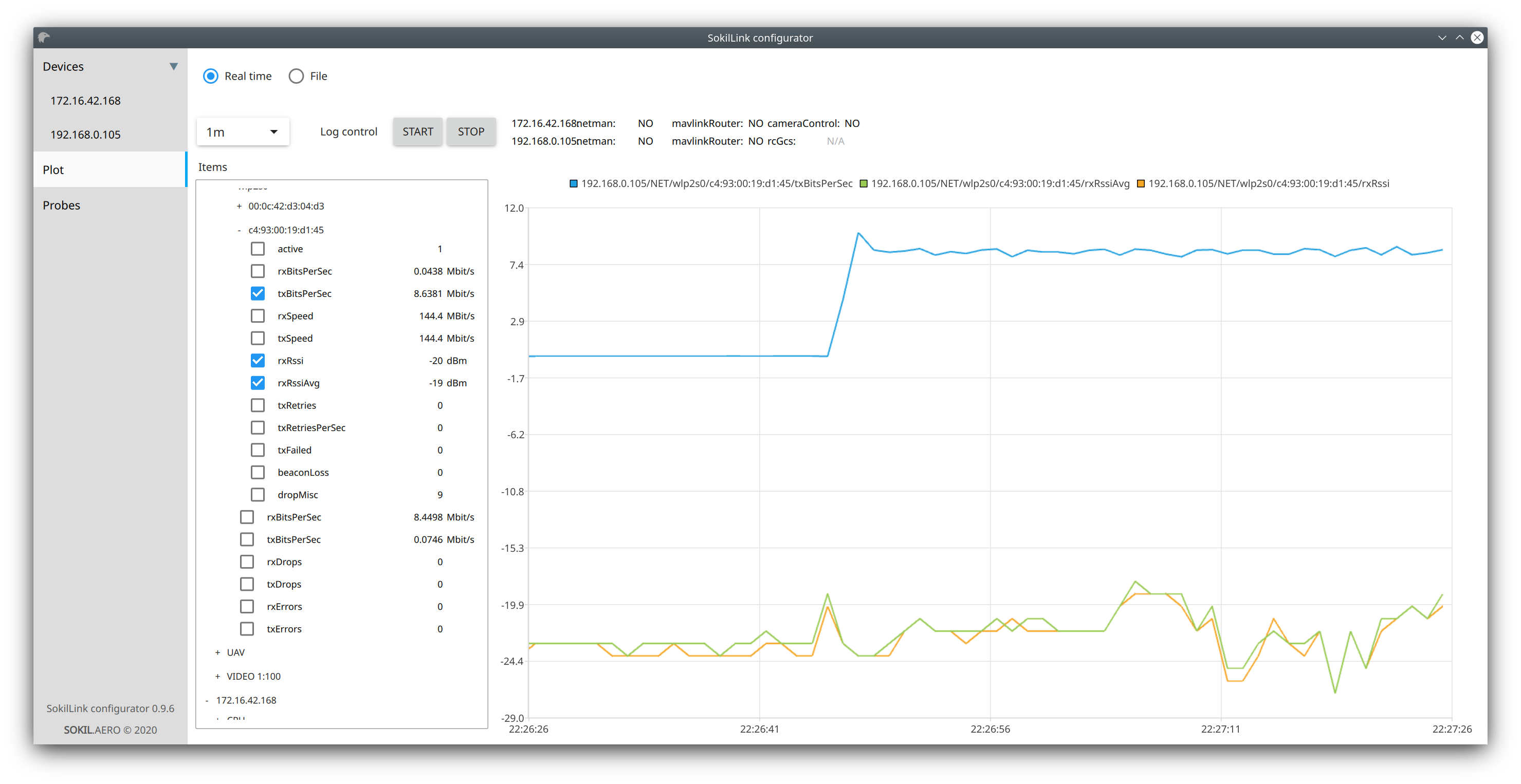 GCS support
---
When you need to plan a flight mission or control your drone more precisely, it's always possible to connect a third-part GCS software. SokilLink implements transparent telemetry bridge so you can always connect to your drone with such well-known applications as Mission Planner or QGroundControl
Hardware support
---
Fully supported hardware
At this moment SokilLink is fully tested and supports next hardware:
Full setup
Ground PC

Aaeon APL-1
Mikrotik R11E-5HacT
Logitech Gamepads (F310/F710)

On-board PC

Ventana GW5510
Mikrotik R11E-5HacT
Kurokesu C1 Micro
Screen-less setup
Ground PC

8devices Jalapeno
Logitech Gamepads (F310/F710)

On-board PC

8devices Jalapeno
Kurokesu C1 Micro
Custom hardware
Since SokilLink Software Suite relies on standard Linux APIs it also may run on all variety of boards. Currently supported hardware modules:
Platform
Autopilot

Pixhawk/Pixracer (and other derived boards)
BetaFlight/ClearFlight (limited functionality)

Wireless module

Qualcomm WiFi 802.11n/802.11ac PCIe modules
Other WiFi modules with nl80211 API support

Camera

USB cameras with H.264 hardware encoding (e.g. Kurokesu C1)
Sony Camera API capable cameras

Input

USB HID gamepad
Embedded HID module
Customization
---
Although the solution has support for all important features to build a modern drone, it is also highly customizable. Many other hardware (cameras, radio links, various payloads and even autopilots) may be supported on a request. Feel free to contact us if you need any kind of customization!